I saw the Wheaten for the first time in a book of several breeds. I was looking for a second dog for my mixed breed dog and this time it had to be a purebred dog. The descriptions of the character and its outer appearance impressed me. I have found the kennel "Yesterday's Hero" who at time had 4 Wheatens in his home: Gordi Wheaten of der Steig, Wheaten Rebel's Fergus Mc Roy, Yesterdays Hero Cherley Sheleen and Wheaten Rebel's Eliza Doolittle. Experiencing the Wheaten in real life and feeling the described silky coat encouraged my decision to take an Irish Soft Coated Wheaten Terrier into my house...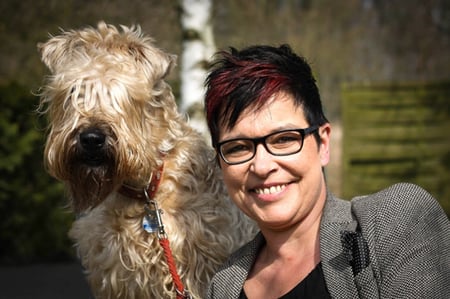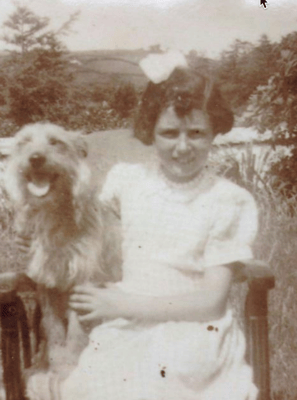 I always loved and had terriers, including a Wheaten as a child. The Wheatens have a lovely temperament; don't shed, so a great dog to live with in a home environment. We got Holmenocks Hoffberg (Doughal), bred by Maureen Holmes in 1992 and Holmenocks Hacada (Susie) the following year, the ancestors of all our Wheatens today. I had the breed as a child and seriously since 1992. They are the only breed that I am interested in...
When I started to look for a dog, I lived in the city and I thought that a medium size breed would suit better my environment. I bought different dog magazines looking for a long haired breed and one day I saw the photo of a dog that really caught my eyes for its look. I had never heard of this breed, the breed name was complicated "Irish Soft Coated Wheaten Terrier" and I decided to give a phone call to the breeder to get more information...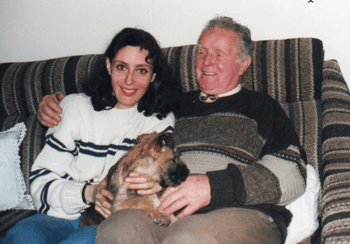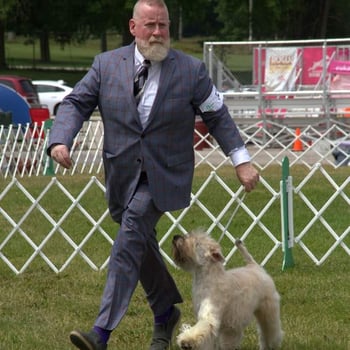 I became involved with Wheatens after meeting Gerard Thompson (Geragold), and his mentors, Maureen Prokosch & Late Jean Peterson (Newkilber). The Wheaten temperament is so endearing...
When on holidays in Ireland as a child I would stay with my aunt and uncle, Barbara and Con Bradley, in Newbridge, County Kildare. They always had a Wheaten bred by Maureen Holmes (at the time I had no knowledge of that of course). From day one I fell in love with this dog. I loved the colour and the sheen of his coat and the specific touch (sensation) when going through the coat with my fingers. Moreover Finn was a very loveable animal...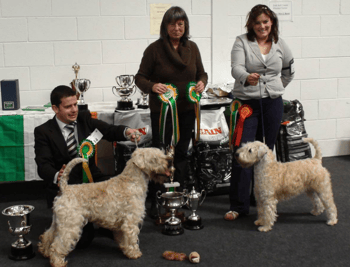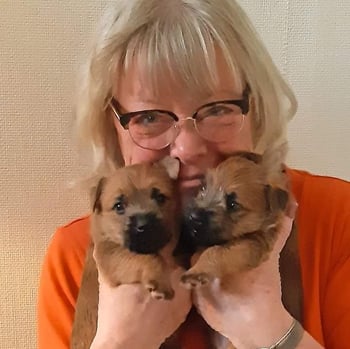 Their lovely temperament and the wonderful coat did totally capture our hearts immediately...
My grandmother, Eva Corander, imported the first ISCWT to Nordic countries from Ireland in 1963, so I've grown up with the breed. Our first wheaten, Geijes Wheaten Crecora, was born in 1966, but she was never able to have a litter. Sometimes I wonder how our wheaten breeding would have gotten started if things had gone differently...